On The Record
Episode Seven
Academic Bullying
Surviving Academic Bullying: Stories and Resources for Targets

Breaking the Silence Around Academic Harassment

Undoing Gender in Academia: Personal Reflections onEqual Opportunity Schemes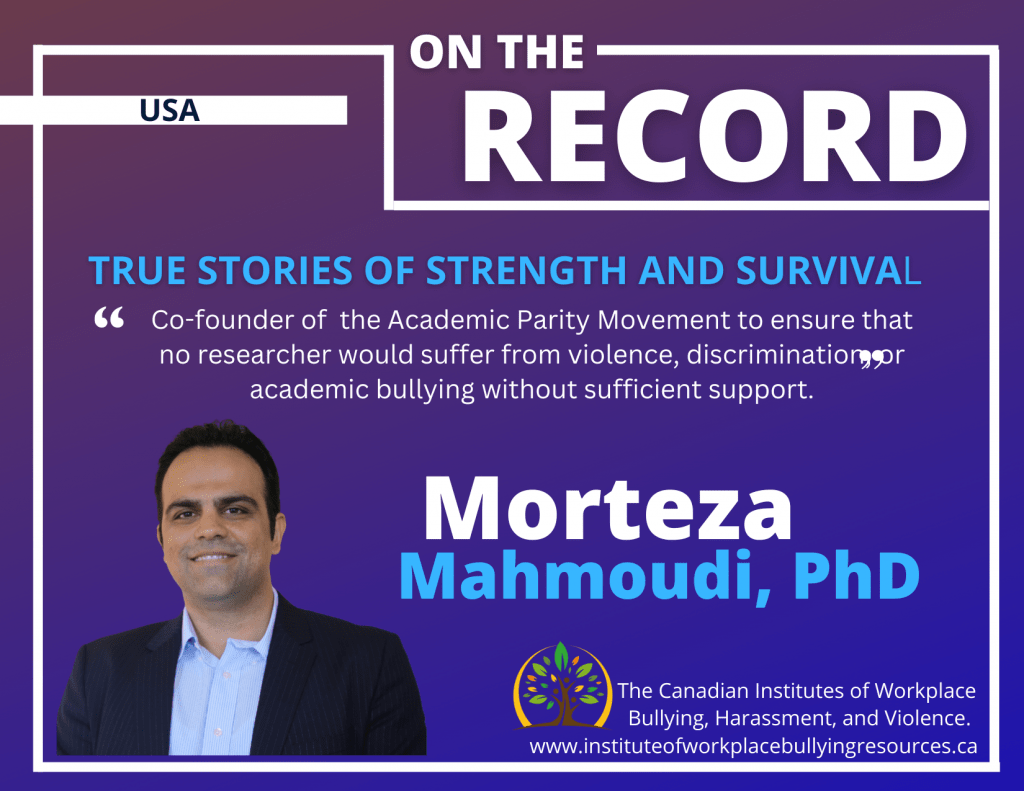 Dr. Morteza Mahmoudi
Dr. Morteza Mahmoudi is an Assistant Professor at the Department of Radiology and Precision Health Program at Michigan State University. His specific research interest is in nanomedicine and regenerative medicine. His lab is also very active on social sciences specifically in the fields of gender disparity in the scientific backyard and academic bullying. He received several trainings in nanotechnology, nanomedicine, magnetic materials, and cardiac biology from University College Dublin (Ireland), École Polytechnique Fédérale de Lausanne (Switzerland), Sharif University of Technology (Iran), the University of Illinois at Urbana Champaign, and Stanford School of Medicine. Prior coming to Michigan State University, he was an Assistant Professor at Harvard University.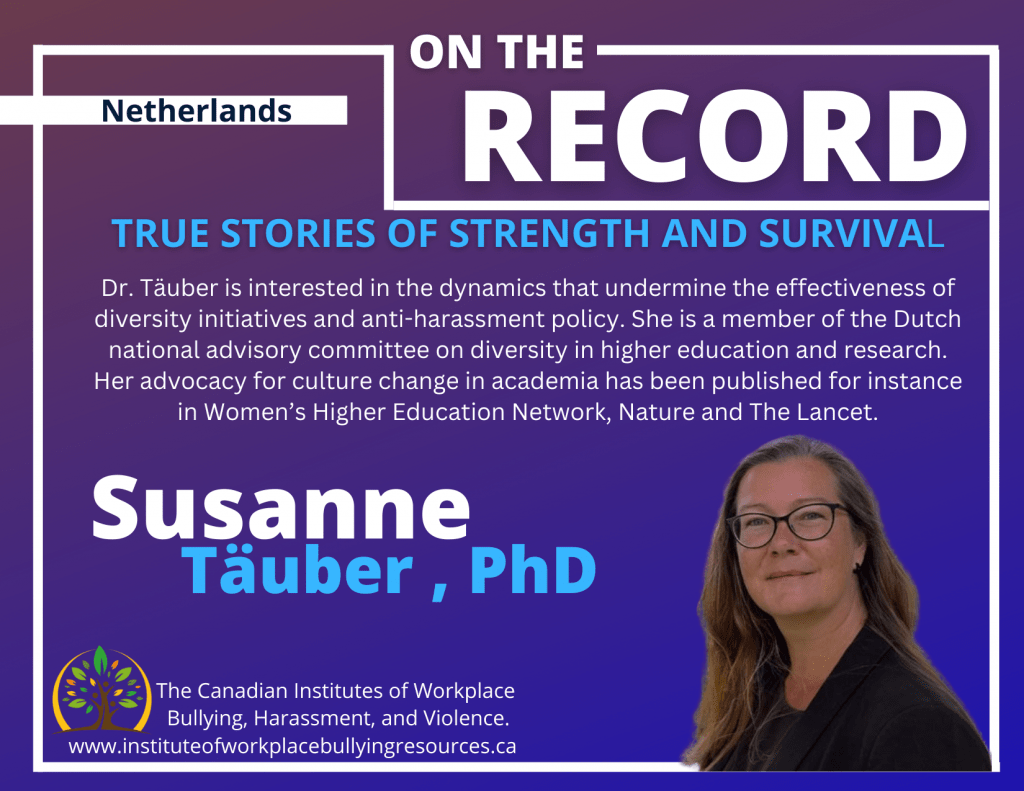 Susanne Täuber
Susanne is an academic with 20 years of experience and has both witnessed and experienced workplace bullying. Academia is often considered the cradle of civilized behavior, but is instead rife with abuse, discrimination, and toxicity. The retaliation against people speaking out about bullying in academia is relentless and violent. Susanne aims to raise awareness about the real-world implications of academic bullying, which profoundly decreases the quality of research and education, undermines scientific integrity, and reproduces inequality. She publishes articles to advocate for meaningful change in academia and is regularly invited to speak about causes and consequences of academic bullying. Together with likeminded colleagues from the Academic Parity Movement and the Network Against Power Abuse in Science, she counsels targets of bullying and power abuse in academia.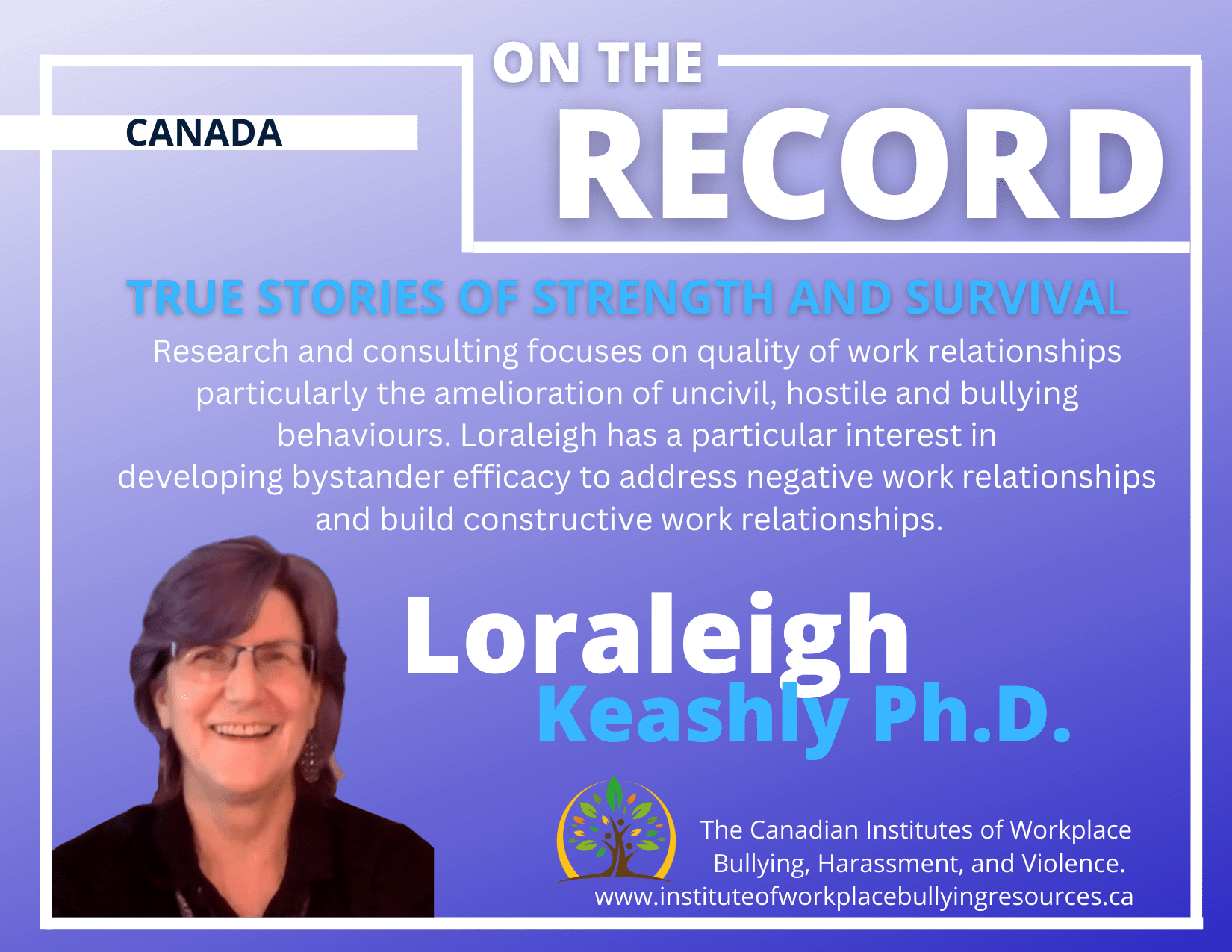 Loraleigh Keashly
Loraleigh Keashly (Ph.D. U of Saskatchewan) is Professor, Department of Communication, Associate Dean, Curricular and Student Affairs, College of Fine, Performing and Communication Arts and Distinguished Service Professor, Wayne State University, Detroit. She is also the chair of the university campus climate study group. Her research and consulting focus on quality of work relationships particularly the amelioration of uncivil, hostile and bullying behaviors. She has a particular interest in developing bystander efficacy to address negative work relationships and build constructive work relationships. Most recently, she has focused her attention on problematic behaviors in academic environments and works with universities on these issues.
For more information:
WSU Department of Communication profile: http://www.comm.wayne.edu/profile.php?id=103677
Wayne Women in STEM: https://s.wayne.edu/nsf-advance/2021/08/23/meet-a-wayne-woman-in-stem-loraleigh-keashly/
WSU Empowered to Lead podcast:  https://provost.wayne.edu/empowered/s3e7
Researchers' perspectives on bullying in higher education: https://youtu.be/6u1IgVhMX0I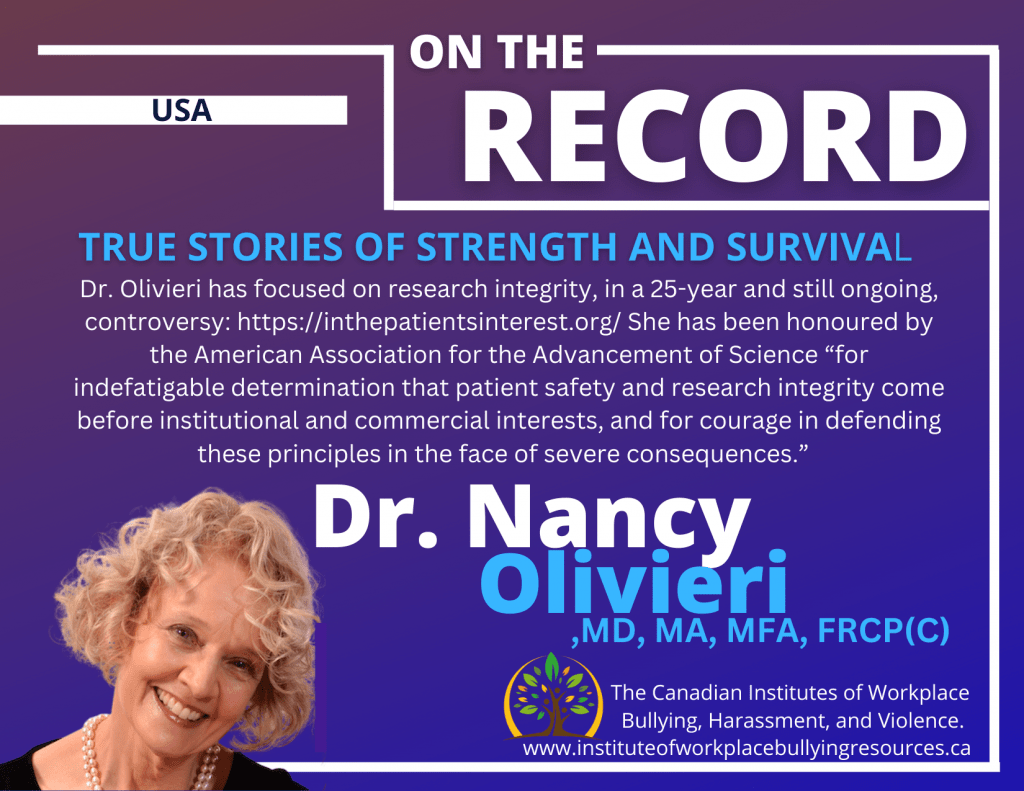 Nancy F. Olivieri
Nancy F. Olivieri, MD, MA, MFA, FRCP(C) is a Professor of Pediatrics, Medicine, and Public Health Sciences at the University of Toronto.  Over the past 25 years, Dr. Olivieri has been at the center of a controversy involving research integrity, academic freedom, and the protection of patients in medical research.  In 1996, Dr. Olivieri raised concerns about the drug's safety.  The CEO of a pharmaceutical company partly funding the trials threatened the force of "all legal remedies", should Dr. Olivieri disclose her scientific concerns to patients, parents, regulatory agencies, or the scientific community.  That CEO later made good on those threats; decades of litigation followed.  In parallel, bullying by senior academics at the University of Toronto and Hospital began almost immediately, possibly not unrelated to ongoing negotiations, from Sherman for the largest donation in the University's history — from the same CEO.  The harassment included repeated firings, and false but highly publicized accusations of misconduct, and ultimately, an attempt to revoke her medical licence.
Ultimately, the Ontario College of Physicians and Surgeons dismissed all factitious charges, describing Dr. Olivieri's conduct as commendable.  All legal actions were settled in mediation, including a settlement with the Pharma CEO, 18 years after his first threats.  After years of conflict Dr. Olivieri was honoured, including in 2009, by The American Association for the Advancement of Science's Award for Scientific Freedom and Responsibility: "for indefatigable determination that patient safety and research integrity come before institutional and commercial interests and for courage in defending these principles in the face of severe consequences."
But in this, Canada's most enduring medical scandal, even after the CEO died a mysterious untimely death, bullying continued, after Dr. Olivieri raised concerns about questionable research practices, deaths and irreversible harms in patients treated with the original drug while it was unlicensed in Canada at the Toronto General Hospital (to which the CEO had donated millions before his death).
Dr. Olivieri  book – What They Knew: A True Story of Drugs, Death and Deception — is still in preparation.  It is not the only book on this conflict: John Le Carré wrote a thriller, The Constant Gardener, based on this scandal, observing that "compared to reality, [his fiction] was as tame as a holiday postcard."
On The Record Episodes
Social Workers, Whistleblowers, Doctors, Academic Bullying, Let's Talk about NDA's, Canadian Indigenous, and more!
We invite you to contact Linda at Psychologicalsafetyfirst@gmail.com if you have a group of four who wish to contribute their stories and wisdom to help others around the world.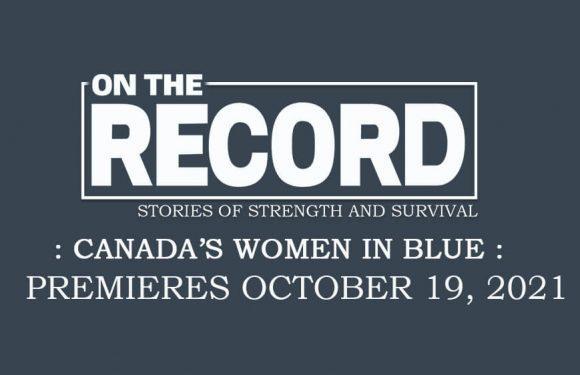 Episode 1 of On The Record honours the faces and unfiltered voices of Our Canadian Women in Blue.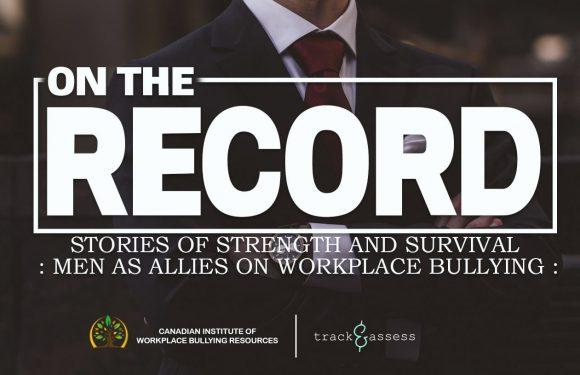 Episode 2 of On The Record discusses Men as Allies on Workplace Bullying.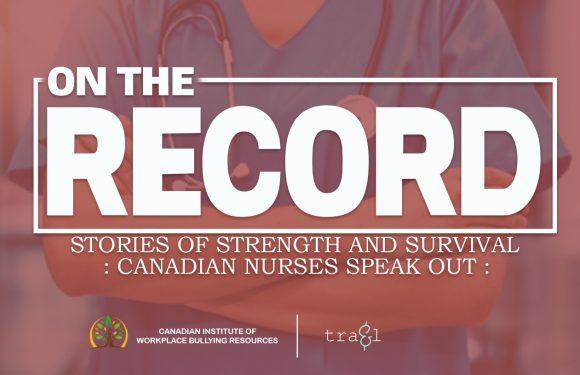 Episode 3 of On The Record gives a voice to Canadian nurses.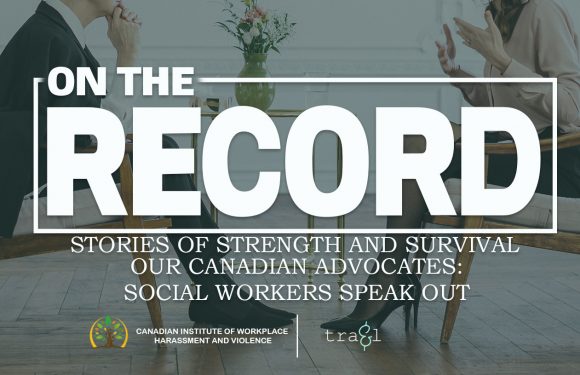 Episode 4 of On The Record gives a voice to social workers.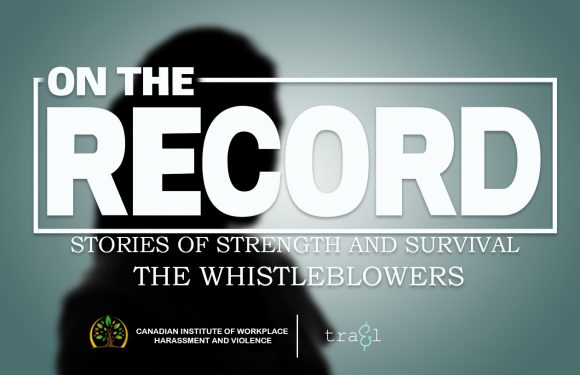 Episode 5 of On The Record features whistleblowers speaking out.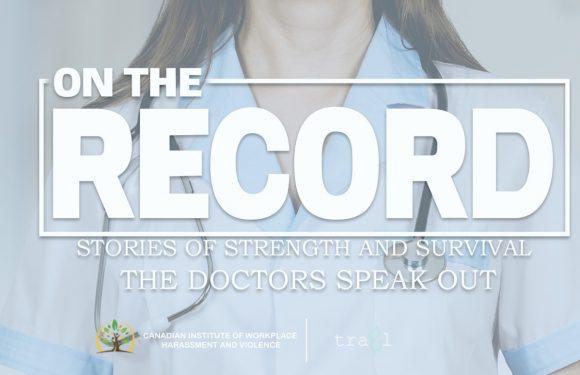 Episode 6 of On The Record features personal stories from doctors.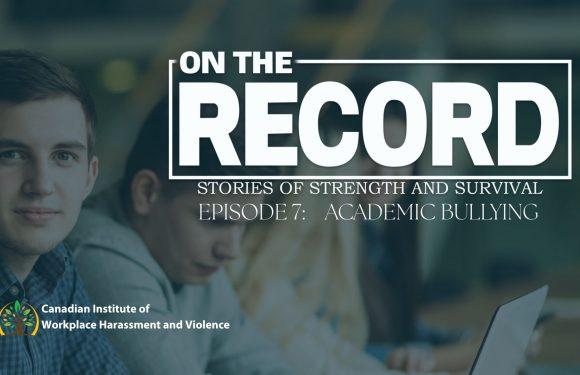 Episode 7 of On The Record features a conversation about academic bullying.