Psychological Hazards in the Workplace and the ROR
Return On Relationships with Linda Crockett
Evolving Our Understanding of Workplace Bullying and Injury
Psych Health and Safety in Canada
In this episode, host Kim MacDonald talks with guest Linda Crockett about her work with organizations and employees navigating the negative impacts of workplace bullying, and harassment and how illness, and injury can be the result.
Over the past 12 years, Linda has supported both employees and employers in navigating the impacts of complex and problematic workplace behaviour. Linda shares her thoughts on what organizations and employees can do to improve work conditions and move through this very human experience.
Combatting Workplace Bullying with Empathy
Purposeful Empathy, hosted by Anita Nowak
Tolerable Risk Podcast with Sabrina M. Segal
Kourting Happiness Podcast with Dr. Kortni Alston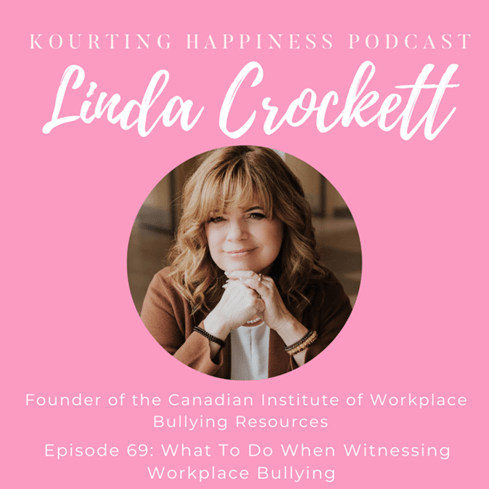 Women Business Leaders of Our World Get Candid
Women Business Leaders of Our World get candid. WCIR is a podcast dedicated to personal growth and mental health discussions with Women CEOs across the globe. If you're a woman on a mission, this is the podcast you don't want to miss!
The July 28, 2022 episode feature guest speaker, Linda Crockett
  Listen Now

Women CEO In Reflection Launch Party

(July 19, 2022)
  Watch on YouTube.
An Inside Look at Workplace Bullying – A ThreeSixty Alberta Exclusive
October 2019
Think bullying stops at high school? Join us for an inside look at bullying in the workplace. Co-host Jana Semeniuk chats with Linda Crockett, a trauma specialist and workplace bullying expert based out of Edmonton. Bullying awareness week runs Oct. 13-19.
The Nine Oh Six
Extraordinary Women: Their Stories
October 2021
Episode 38: Choose to Challenge Workplace Harassment and Bullying
In this episode Linda unpacks why she call's workplace harassment and bullying an epidemic and provides examples of how this has showed up in her personal life that led her on her journey to help eradicate it. She shares strategies for victims of workplace harassment and bullying on how they can lead with clarity, courage, confidence and reporting to make their way to recovery. She challenges us all to speak up and act in helping end this epidemic!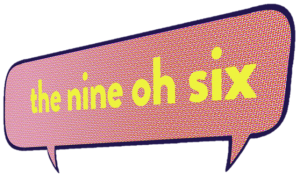 Interview with David Yamada: 3 Questions for Linda Crockett, founder of the ABRC
September 2019
Radio Interview: Psychological Hazard of Bullying in the Workplace
July 2019
Radio Interview: Afternoons with Rob Breakenridge, Global News Radio
July 2019
Interview: All Business Media – The Professionals Roundtable
October 2018
Interview: All Business Media – Counselling Services
September 2018
CBC News: Workplace bullying on the rise across country: Alberta expert Linda Crockett
September 2015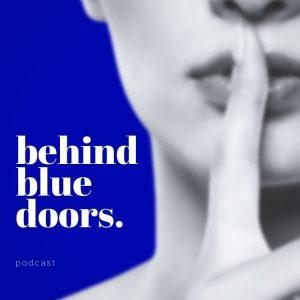 Listen to Behind Blue Doors on Spotify. With this podcast, we hope to provide current and former policewomen with a safe space and an anonymous platform (if desired) to elevate their silenced voices. Recognizing the trauma and stigma many policewomen face, we are here to put an end to victim-blaming and the minimization of trauma. For more information or to share your story, please reach out.
Contact: behindbluedoors2021@gmail.com
Website: https://www.behindbluedoors.org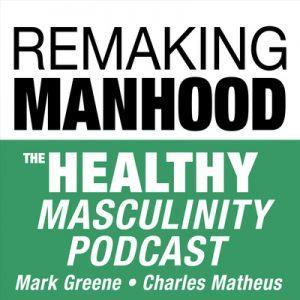 For generations, our culture has taught us a narrow limiting set of rules for how to be a man. The end result? Epidemic levels of isolation and violence for boys and men and for the multitude of others who's lives we impact.
But we can make a difference choice. We can choose a masculinity of connection and in return have healthier relationships and more meaningful, lasting lives. Every episode you'll hear honest conversations designed to show you what breaking out of the man box can look like and feel like. Welcome to Remaking Manhood, the healthy masculinity podcast.
Podcast: anchor.fm/remaking-manhood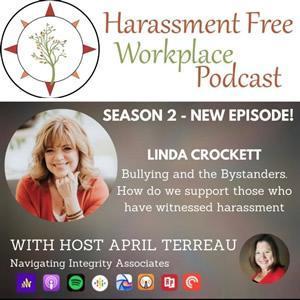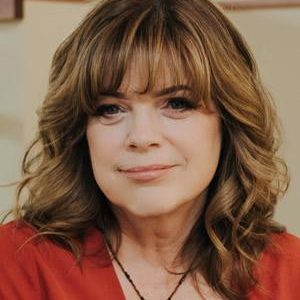 An insightful and rich conversation with Linda about understanding and speaking out about psychological harassment and bullying in the workplace.
How can we change the conversation in organisations ?
How can we move away from normalising this to creating awareness and action ?
We must self-monitor, and have self-insight, be aware and respectful of our environment and peoples' sensitivities, and learn what the triggers are for both ourselves and others.
This deepened understanding of ourselves coupled with further access to understanding the topic itself can create allies as opposed to bystanders.
Linda shares her stories, experience and insights from working with bullies and victims of bullying in organisations and communities across the globe.
Spotify: open.spotify.com
Note: ABRC is now the Canadian Institute of Workplace Harassment and Violence.