What to Expect
Linda Crockett has worked with thousands of employees since starting her specialty in 2010.  Over the years she has learned the importance of providing a variety of skills within each session. Depending on what each client's needs, Linda interchanges her skills between providing safety and support, guidance and education, advocacy, through to workplace coaching, brief or solution focused counselling to trauma therapy. Her ability to interchange these skills prevents interruptions or delays in their progress. Linda provides the genuine and expert knowledge to support to those impacted by harassment and violence in their workplace.
The first session will involve an assessment on the client's experiences, needs, resources, employers' policies, and steps taken so far. We will prioritize for strategy development and goal setting. Building a place of safety and trust is a priority. It will take time. We will focus on your safety and building a connection.
Ongoing sessions will depend on the client's situation. Each case is unique.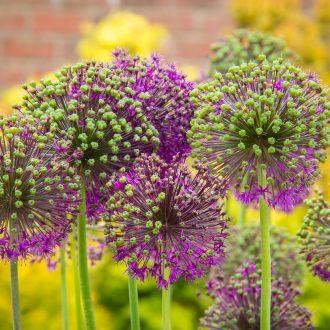 Examples:
Short term exposure to workplace harassment or bulling may only require 1 – 4 sessions. Long term exposure will change the number of sessions depending on client resources, supports, and motivation towards their recovery.
Some people will require emergency resources i.e.: legal, union, income etc., before treatment can begin.
Some people will require symptom stabilization before additional resources become involved and/or a treatment plan can be established.
Employees harmed by workplace harassment and violence will need to commit to recovery with or without justice. Your physical and mental health must become a priority. 
Resources for Employees Harmed by Workplace Harassment and/or Violence
When an Employee is identified in an investigation as being disruptive and causing harm to another employee(s), Linda provides an assessment and specialized rehabilitation program. Most often the employee is referred to Linda via the Employer on a mandatory basis. This is the employees' chance to save their jobs.
Services offered are a safe place for non-judgmental support, education, coaching, and when necessary, counselling. The assessment will determine the employees' level of self-insight, motivation, barriers to change, and areas in need of development or improvement. Without even the smallest level of self-insight, change and progress will not occur. Linda has worked with many employees identified as disruptive.  Some are shocked at the investigation outcome and they are ready and willing to do anything to change.  Others will range in levels of denial and resistance.
Linda has developed a reliable process to assist those who were motivated, and those who are resistant. She often states that this is the most interesting and rewarding area of her work. 
We Offer Support to Victims of Workplace Harassment, as well as People Wittingly or Unwittingly Behaving as a Harasser
Workplace Harassment Educational Support Group
This two-part educational support group is confidential and informed by current research as well as over 10 years of practice. This is a safe space for people who have experienced short or long-term stress of workplace harassment or violence. This group brings education, guidance, support, connection, and stress relief through sharing, exchanging of information, and understanding. You will learn what workplace harassment is, what is not, how it impacts you psychologically and physically, how it impacts the work environment, and what to do about it. We will share strategies that work, identify gaps in processes, options to fill those gaps, and offer you a variety of tools for continued repair and recovery.
This group will be a place of support and validation as we focus on "what works". Each case is unique, and each member will be a different stage of their experience. This group is an opportunity to learn from each other, especially, what has worked and what to avoid. You will be reminded of your strengths and resilience, and enhance or develop new coping strategies, understand how your body and mind has responded to this stress, and most importantly, discover that even though this experience is crazy making, you are not crazy! You are not alone; you are not to blame. With this group you will have access to many resources including research, podcasts, articles, an ongoing discussion group, and other professional resources.
CIWPB Resources are ongoing:
This is a two-part group series however, if all participants wish to extend these group sessions, this is an option.

A package of handouts will be provided, and more are available on our websites.

All group members will be invited to join a closed Facebook group for ongoing discussions, sharing, exchanging articles and resources. An opportunity to meet, exchange and learn from more employees who share similar experiences.

Facilitators will be available to you for discounted private coach/advocate/counseling options.
This group is a combination of educational and support rather than therapy. We prefer that you are seeing a coach or therapist and/or that your family doctor is aware and supportive of your attending. We will focus on your safety, self-care, connecting to others, and experiencing support. While there is some group instruction, story sharing or group topic discussions, no one is obligated to share their story.
Goal of this education support group:
Each group will be unique and to accommodate that we will first discuss what each group needs. Once the needs of each group are determined, the following are examples of these group's potential goals and outcomes.
Examples:
Learn about workplace harassment stress, impact, trauma, tactics, characteristics, profiles, prevalence, risk factors, how common it is, and answer many important questions e.g., why me? What makes people act this way? Why won't my colleagues speak up?

Identify skills, strengths, and what helped each member cope.

Learn about the physiology and biology of stress and trauma.

Explore strategies to help regulate your nervous system.

Learn how to identify and manage your triggers earlier, before they become something you feel you have little control over e.g., panic attacks.

Learn about other resources available to you e.g., OHS, Human Rights, WCB, Legal.

Discuss recovery and self-care. Recovery needs to be a priority, with or without justice.

 



Adults who have experienced adult or workplace harassment or violence in the past or present are welcome to attend this group. Please take time to discuss this group with your family doctor, WCB, and/or therapists prior to registering. We would like to be collaborative and remain transparent with your supports.
Groups run once a month every second and fourth Wednesday evening of the month.
Total Fee is $160.00 per person for a

total of 4 hours

. Your benefits might cover this.
Receipts will be made available for your health providers reimbursement.
Agenda
First Group Session: introductions, overview, establish group needs, and sharing of tools and resources.
Second Group Session: continue discussions based on first session, teaching/ sharing of tools/resources.
Handouts and Facebook Group Invite
100% Confidentiality.
Contact Linda Crockett or Michelle Kropp at canadianinsitutuewpb@gmail.com to complete our intake process. Any questions or concerns please call and discuss with us.
Thank You!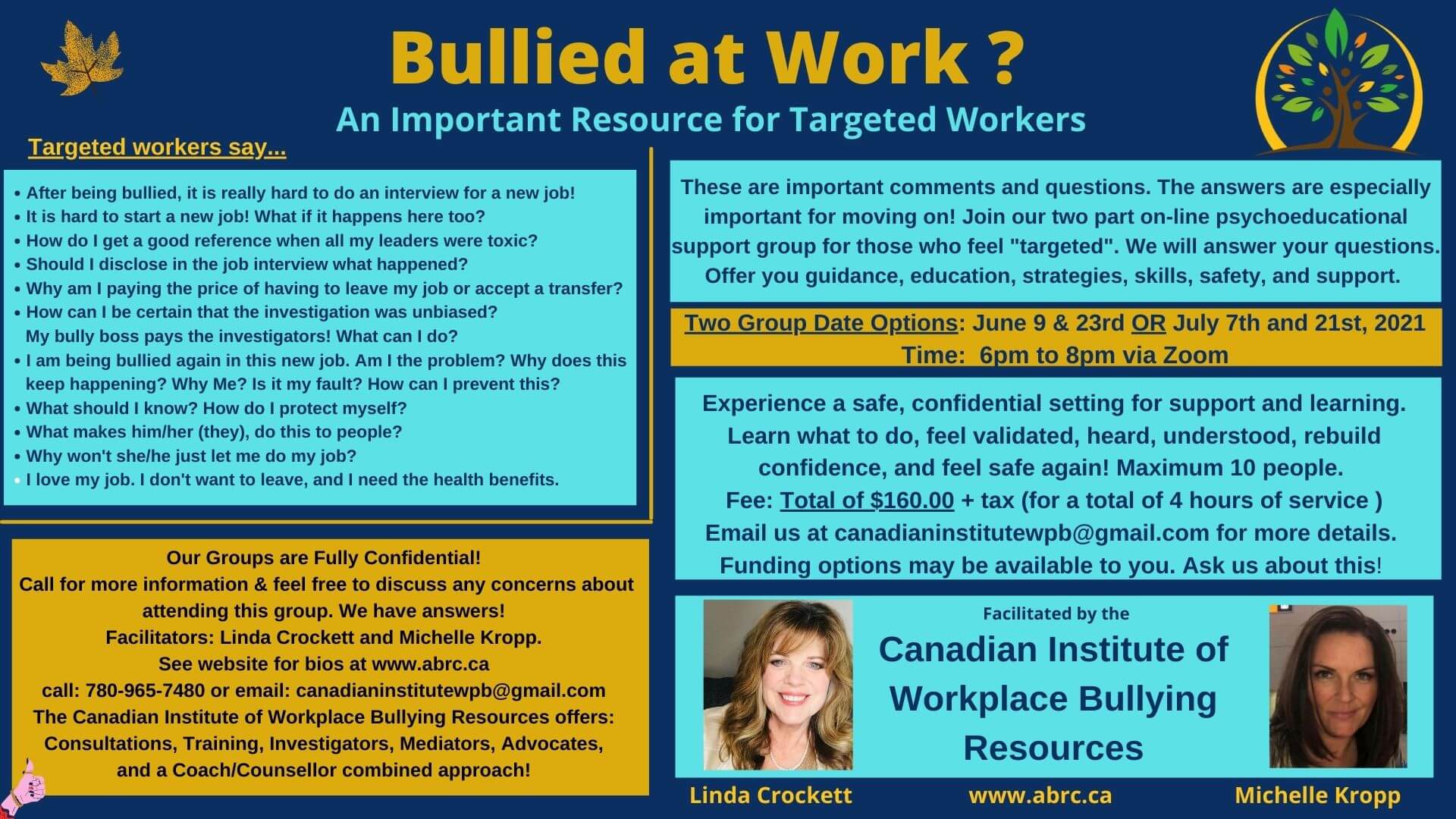 Linda Crockett
MSW, BSW, RSW, SEP
Founder of The Canadian Institute of Workplace Bullying Resources
Michelle C. Kropp
B.Ed., MACP, Graduate Level Practicum Student
CPCA Member
Michelle has worked in the areas of education, social work, counselling, mental health, and advocacy for 24 years. She has been a a witness, target, and advocate of Harassment and Bullying in and out of the Workplace. Michelle is dedicated to helping others through education, intervention, prevention, and working in collaboration to provide advocacy and support to navigate through systems to find options that are catered to the needs of those she works with.  As a team member of ABRC, Michelle does intake assessments, offers one to one and group counselling, provides recovery options, advocacy, contributes to research and communication via CI and co-facilitates workshops. Michelle, offers a holistic perspective to addressing the diverse, multi-layered, complex needs of individuals.
The Top Ten Things That Sucked Most About Workplace Abuse Recovery
Other Services
Facilitated Discussions
Advocacy Response Team