A Time Efficient Resource for Leaders, Employees and Many More!
After testing the Trael (formerly Track & Assess) resource, we are happy to promote it as an excellent phone application for documenting workplace bullying evidence, tracking signs and symptoms, and for producing professional records for employees, leaders, investigators, human resources, OHS, Human Rights, Medical Teams, Unions, Insurance Companies, and more. This application decreases the time and energy required for keeping records. We all keep our phones close by so this Track and Assess helps with immediate note taking.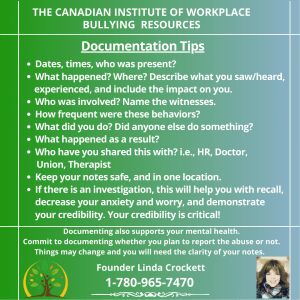 Here is what you want to document:
Record your comments as if you were speaking with a police officer or standing in a courtroom.

State the facts: dates, time, where you were, who was there, exactly what you heard, what you saw, what was done, what was the outcome, and how this impacted you. Not whatever you feel is important to the case. Avoid gossip, assumptions, or hearsay.
Leaders, HR, Unions, Medical Teams, Insurance Companies, and Investigations: the tracking and assessment application will assist you with evaluating reports or complaints from employees. The app will help you evaluate patterns, themes, and the credibility of employees reporting to you.
Complainants/Targets of Bullying: the workplace investigator is attempting to determine who is credible in the investigation. Your detailed notes will be set in an order and showing consistency. This will help professionals evaluate patterns, themes, and the consistently of your statements. This is important for determining your credibility.The ability to immediately document and locate information supports the employee's mental health. Having records available decreases stress and anxiety. Employees often struggle with remembering dates, times, and details. This will assist you the very moment you need information. As a result, employees will have more peace, energy, sense of safety, and confidence when expected to participate in interviews, attend meetings, respond to emails and/or phone calls. It will also assist you with tracking your feeling, moods, reactions, and demonstrate for you how this impacting you. This information if crucial to your case regardless of what strategy you select to resolve your work situation.
Witnesses: "Bystander intervention is known to be the most effective strategy when dealing with harasser or bully".R Hitlan, K Schneider and A Estrada, Reactions to personal and bystander sexual harassment experiences (2002). Bystanders//witnesses are expected by law, and by company policies to report. We understand and can help you with the many difficulties witnesses face with this requirement. Most importantly, whether you plan to report workplace bullying or harassment or not, please use this Track and Assess document anyway. Things may change in a few months and you may decide to report. We hope you do. But it is exceptionally important that the details for each month leading up to this decision is documented. You will be more credible for leaders, HR, and investigators, and you will be more confident in your report. We are human, when stress occurs, it is far too easy to forget important details that will help make your case. Please do document.
Respondents: This is an excellent resource for you too. If you have been accused of workplace bullying or harassment, this will assist you to document important interactions, responses, or evidence to support your case. It will also assist you with tracking your feeling, moods, reactions, and demonstrate for you how this impacting you, or how you are impacting others.
The experience of workplace bullying is very daunting, complex, and multi-layered. I am extremely excited to see things become easier for employees. Linda Crockett
Trael mobile application: www.traelapp.com