Linda R. Crockett
MSW, RSW, SEP
Linda completed her master's degree in Clinical Social Work with a specialty in workplace harassment and bullying. She completed additional training at the Workplace Bullying Institute in the USA and remains connected and supported as an Alumni member.
Linda also completed the Inaugural Summer School: Formulating Evidence Based Treatment for Targets of Bullying which was hosted by the International Association of Workplace Bullying and Harassment (IAWBH). Researchers and therapists from around the world shared their work with 24 helping professionals. This included assessment, diagnosis and treatment frameworks for treating people traumatized by bullying and harassment.
She is an active member of IAWBH.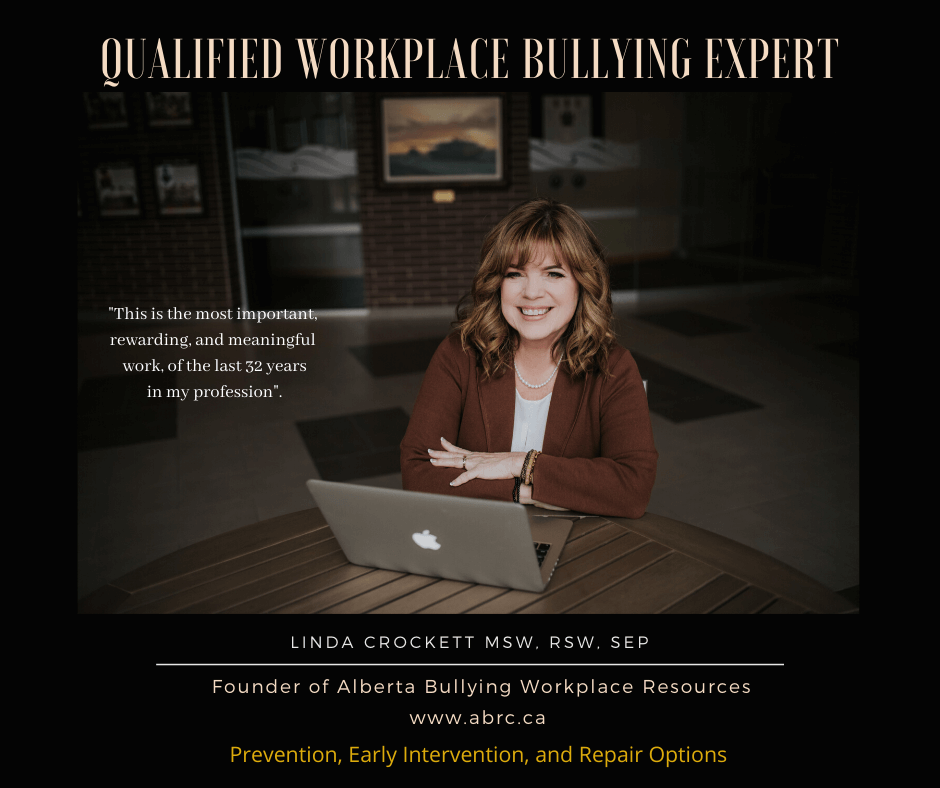 Years of Experience
Linda has been a professional social worker for over 32 years. As a witness and target of Workplace Harassment and Bullying (including mobbing) in her own profession, her career is dedicated to development of a Centre which provides Education, Intervention, Prevention, and Restorative / Recovery options for Employers and Employees impacted. Linda offers a holistic perspective to addressing the diverse, multi-layered, complex phenomenon of workplace harassment and bullying. She has created a service stationed in Edmonton Alberta to support all Albertans.
As a trainer or presenter, Linda has worked with nurses, paramedics, firemen, police officers, teachers, social workers, Oil and Gas Industries, Unions, Medical Teams, Insurance Companies and more.
As a therapist, Linda offers a safe and confidential space for clients to feel heard and validated. She supports those who have been harmed in the workplace, and those who are acting out with harmful behaviours.
Holistic Needs Assessment, Treatment Plan and Recovery Options
Offer Recommendations including Facilitate Restorative Discussions
Advocacy
Employees on sick leave often feel isolated and experience additional stress when attempting to navigate through different systems e.g. insurance companies, medical teams, unions, and human resources. ABRC offers support throughout these processes including, difficult decision making, document completions, reviewing rights, options and next steps, and assisting with communications. We help support your recovery and successful return to work processes.
Pat Ferris
MSW, RCSW, M.SC., Ph.D
International Leader in Treatment and Intervention Protocols
Pat has been a mental health counseling professional since 1979. She has a masters degree in clinical social work and a Ph.D. in industrial organizational psychology. She is registered as a Clinical Social Worker. Pat's 40+ years experienced in counselling and consulting in mental health and her 25+ years consulting, training and coaching in the workplace provides her with broad insights to helping both individuals and companies achieve their mental health goals. Pat was a partner in a large private practice that delivered both corporate and individual services. In this role, Pat lead a team of clinicians and trainers to deliver counselling services, critical incident services, training, and assessment services.
Dedicated to a Better Quality of Life for Her Clients
Pat is a skilled counselor who uses the therapeutic relationship to help clients develop knowledge of themselves, facilitate emotional growth and develop personal resources that lead to a better quality of life for her clients. She holds advanced accreditation in hypnosis, Critical Incident Stress Debriefing, and eye movement desensitization and reprocessing (EMDR).
Pat is also a member of the Calgary Consortium For Civility, Respect And Dignity At Work.
Specialist In Bullying And Harassment Situations
Pat specializes in counseling and coaching individuals involved in bullying and harassment situations. Pat is recognized as an international expert on the topic of Workplace Harassment and Bullying. She was the Co-Convenor of the Therapist Special Interest Group of the International Association on Workplace Bullying and Harassment for a decade, leading an international group of therapists in developing treatment protocols for targets of workplace bullying. She provides keynote speaking, workplace training for employees, supervisors and senior leaders in managing workplace bullying and harassment, coaching to those involved in managing workplace bullying, and counselling to those who have been targeted and those who have engaged in bullying.
Pat's Ph.D. in Industrial Organizational Psychology focused on quality of life issues in the workplace.  From this training, she has developed expertise in training and consultation on Respect in the Workplace, workplace stress and its relationship to cardiovascular and other disease processes, the psychology of safety, and leadership development and selection.
Pat was nominated for the British Petroleum International Helios Award for Research in Best Practices in the Workplace, 2008 for her work on stress in the oil and gas industry and team solutions. She also holds Lifetime Achievement Award, Calgary Women's Soccer Association, 2010 for contributions to governance.
Pat is a popular speaker and trainer at numerous international conferences on the topic of workplace bullying and harassment and other mental health issues.